Fake nudes on request
Would you like fake nude picture of someone you know?
Email me a photo and I will photoshop it nude

How to get fake nude
Email me a photo to fake
I will confirm it can be done
Make a payment
Receive your fake nude pic

Pricing
Head swap fakes - $14
Clothes removal - $17
Facial fakes - $10
Head swap porn - $14
Samples of my work
( only work I am allowed to show )
Missandei in her slave days. Pretty easy topless fake. Breast shape was obvius and I think I got color of her nipples nicely. The only thing I had to work around was the sun angle. Applied some soft shadows on right spots and a small tweek on a slave collar. I had to add watermark somewhere. I don`t add it on requests, of course.
---
She just needed a haircut. It`s a shame to hide such breasts with hair.. I think I got her body shape in this fake nude. Beside shopping the hair, camera angle was kind of unusual and had to work around the color photo filter for this one. After adding a noise as a final touch, it turned out into a decent fake nude.
---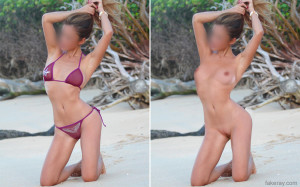 Smallish breasts have a specific shape in pose with hands above her head. Add to that torso tilted to side and chest held out and you are gonna get a challenge to make a fake nude. So how did I do?
---

Nice fake nude, don`t you think? Making fake of two girls in the same picture is hard. Matching ambient lights, skin tones, and that camera angle... Anyway, I made an effort and it turned out great..
---
Have you ever tried to crop hair on low res picture? Don`t, it`s a freaking nightmare. So after I improvised with hair and fucked around with the camera angle, got pretty classy fake nude.
---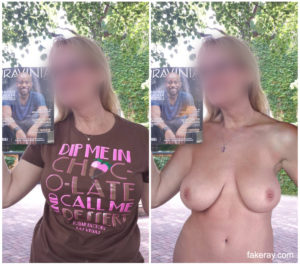 Fake nude of a bit older, but still hot chick! I found the body that matched her age just perfectly, but colors, tones, exposure and other stuff on nude picture were way off.. When I sorted that out, everything was straight forward to a good fake nude of a milf.
---
The girl showed too little skin on the original picture, so I had to use different body. Similar figure and skin tone. Made it in the same pose with weight on her left leg and torso slightly bent to the side. Opened her coat a bit more and it turned out into the pretty decent fake nude.
---
... see more of my work in my Fake nude portfolio